Police, 'yellow vest' demonstrators clash in downtown Toulouse
M.U.H 14/04/2019 108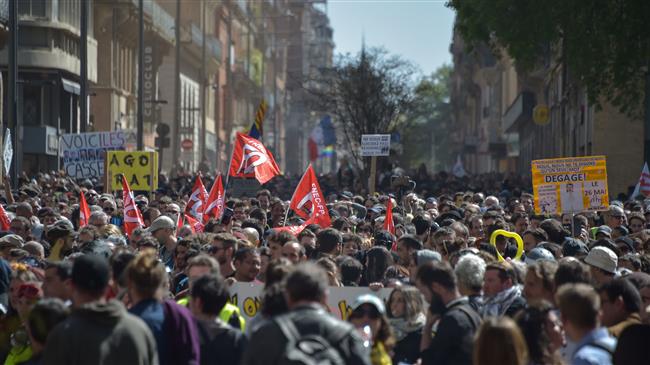 French anti-riot police have clashed with "yellow vest" protesters in the city of Toulouse as President Emmanuel Macron prepares to announce a series of policy changes to end the months-long protests which started in November to oppose fuel tax increases.

Tear gas was fired and several people were arrested on Saturday after protesters started throwing objects, burning garbage bins and trying to enter areas where protests have been banned on the Allee Jean Jaures and on nearby side streets.

Several thousand protesters took part in the demonstration in Toulouse, marking the 22nd consecutive week of the "yellow vest" movement, named after the high-visibility safety jackets worn by demonstrators.

Activist groups had said on social media networks that Toulouse would be the focus for this round of the protests.

Smaller rallies involving hundreds of people happened in Paris, and other French cities.

Rallies in Paris and elsewhere were largely peaceful by early afternoon, but the ongoing "yellow vest" protests continue to put pressure on the government and create a huge political challenge to Macron, who has vowed to announce a series of new policies to quell the 22 consecutive weekends of the protests.

Macron is expected to deliver a major speech in mid-April that will initiate a drastic policy change in the country.

Back in January, he acknowledged that the protesters' anger was "deep, and in many ways legitimate."

He pledged to turn the anger into an opportunity to address the nation's woes.

"I intend to transform anger into solutions," he declared in an open letter to the nation as he launched France's "Great National Debate," a sweeping consultation that included a series of town hall meetings across the country.

"Your proposals will help build a new contract for the nation," he said, as he vowed to raise minimum wage and cut taxes.