Iran's %3.67 uranium production capacity grows four times
m.u.h 21/05/2019 236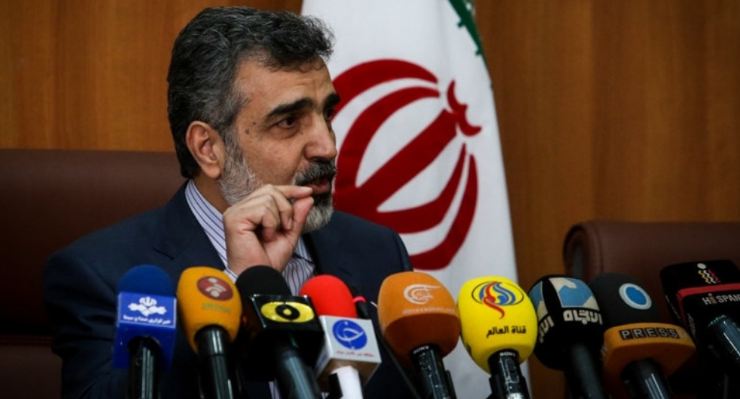 Spokesman for Atomic Energy Organization of Iran (AEOI) Behrouz Kamalvandi said on Monday that Iran's 3.67-percent uranium production capacity has grown by four times.

In a news conference with reporters who visited Ahmadi Rowshan Enrichment Complex in Natanz on Monday, he added that Iran's present four-folded capacity is a message to the opposing parties that Iran has the capability of increasing its production capacity using the existing number of its centrifuges.

It will not be too late before Iran breaks the ceiling of 300 kilograms actually within the next few weeks, thanks to the measures undertaken by the domestic nuclear experts, he said.

"If the Europeans want Iran's production capacity to remain at this level, they should take the necessary actions," Iran's nuclear spokesman said.

"We have no problem with Russia and China, as cooperation is going ahead well," he said, noting that the Europeans say they oppose sanctions and favor implementation of the JCPOA but tend to ignore the fact that Iran should benefit from the deal in practice.

Asked about ceiling of enrichment, Kamalvandi said that the issue will be determined given the technical needs of the country and order of the officials.

"We have necessary capacities in this respect, as AEOI Chief Ali Akbar Salehi said we can start 20 percent enrichment within four days if Supreme National Council of Security approves," he said.

"Currently, we are implementing the additional protocol voluntarily under the JCPOA, as we have been committed to approve it after eight years, and the opposing party has also been committed to declare that all Iran's nuclear activities are fully peaceful," he said.

"We are pushing our measures within the framework of IAEA's rules and Safeguards regulations and the protocol," he said, noting that at present, Iran has no plan to suspend implementation of the additional protocol, but it might be placed on agenda, but whenever the decision is taken, it will be announced to the IAEA.

AEOI spokesman further noted Iran will take actions on the basis of its interests as well as its commitments under the JCOPA and the ceiling of 300 kilograms of enriched uranium and 130 tons of heavy water will be observed based on the Clause 26 of the JCPOA.

Noting that balance in the agreement has been disrupted, Kamalvandi said that after year-long patience, Iran is entitled to refer to all JCPOA's clauses and stop implementing all or some sections of its commitments.

Iran has declared both to the IAEA and other sides that it will wait to see what will happen within 60 days; if no solution is found for the sanctions, it will pursue enrichment above 3.67 percent with redesigning of the Arak reactor, he said.

"Nobody can find fault with Iran, as it exercised patience enough and its actions are taking place based on the rights it has under the JCPOA," he said, noting that it cannot be expected from Iran to merely do its commitments and does not enjoy its rights.