Rahul's tit-for-tat reply to JK Guv Malik: Will visit if ensured freedom to travel, meet people
M.U.H 13/08/2019 145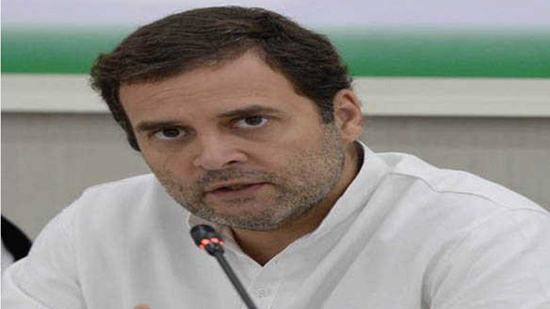 New Delhi, Aug 13:In a tit for tat reply to Jammu and Kashmir Governor Satya Pal Malik, who asked Rahul Gadhi to visit the state and observe the ground situation, while rejecting the latter's claim of violence, the Congress leader on Tuesday, accepted the invitation and said he should be ensured the freedom to travel and meet the people.
"Dear Governor Malik, a delegation of opposition leaders and I will take you up on your gracious invitation to visit Jammu and Kashmir and Ladakh", Mr Gandhi tweeted.
While rejecting the Governor's offer of an aircraft to ferry the Congress leader to Jammu and Kashmir, Mr Gandhi said he doesn't need an aircraft, but he should be able to travel and meet the people, mainstream leaders and the soldiers.
"We won't need an aircraft but please ensure us the freedom to travel and meet the people, mainstream leaders and our soldiers stationed over there", Mr Gandhi added.
Earlier Mr Malik lashed out at Congress leader for his remarks that there was violence reported in the state after Union Government's decision to scrap Article 370, which allowed special status to Jammu and Kashmir.
"I have invited Rahul Gandhi to come here. I will send you a plane, to observe the situation and then speak up", Mr Malik had said.
Earlier also, Mr Gandhi had criticised Narendra Modi government for the decision on Article 370, and had said, "reports of unrest are emanating from Jammu and Kashmir where the Government has imposed a media and communications black out. I urge the Government to take urgent steps to ensure the safety of every citizen in J&K and to lift the veil of secrecy".
Mr Gandhi's reply came days after senior Congress leader and former Chief Minister of Jammu and Kashmir Ghulam Nabi Azad and CPI(M) general secretary Sitaram Yechury and CPI General Secretary D Raja were detained at Srinagar airport, after the authorities denied them permission to enter the town.
Since the Union government brought the bill to abrogate the Article 370 in Parliament last week, former Chief Ministers of Jammu and Kashmir Mehbooba Mufti, Omar Abdullah and many other mainstream leaders are in preventive custody.