"Mission Hepatitis 'B' Free Kargil"
M.U.H 19/10/2017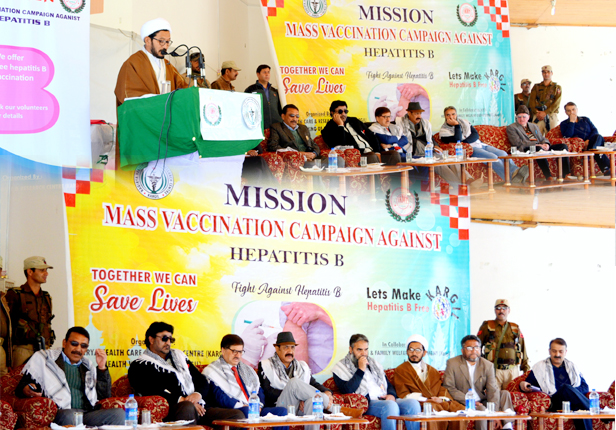 Baqirya Health Care and Research Centre Kargil (Health Wing of IKMT) today on 18 Oct. 2017 as a part of its vision '2020' in a magnificent environment, launched its "Mission Hepatitis 'B' Free Kargil" at TFC ground Kargil. In the inaugural ceremony Sh. Syed Basharat Bukhari Hon'ble Minister for horticulture Govt. of J&K was the chief guest, Chairman legislative council Kargil Haji Anayat Ali, Honorable M.L.C / Vice President Cultural Academy J & K Govt, Mr, Zafar Iqbal Manhaas, MLA Kargil Haji Asgar Ali Karbalai, Commisionar Secretery Horticulture Mr. Manzoor Ahmad Lone, Director Horticulture Mr. Manzoor Ahmad Qadiri, Deputy Commissioner/CEO LAHDC Kargil Haji Gulzal Hussain, Chairman IKMT Shiekh Sadiq Rajai were the guests of Honour.

Various heads of departments including CMO, Deputy SP Headquarter Ishtiaq Kachoo, President Ahle Sunnat-wal-Jammait Sh. Mohd Ali, Prominent poet Alhaaj Hamed Tanveer, DSHO Kargil, Programme Head AIR Kargil District, Horticulture Officer CEO XEN R&B Deputy Secretary Cultural Academy Kargil, Heads of all wings of IKMT, Senior Citizens, general public, students of MES, donors of BHC&RC, Volunteers of Baseej Imam and BHC&RC also attended the Flag off Ceremony, representatives from Various Media fraternity also attended the programme for coverage.

The ceremony began with the recitation of Holy Quran by the students of Jammia Imam Khomeni followed by welcome speech delivered by Vice President BHC&RC, Dr. Oliyat Ali (ENT Specialist), Achievements and Objectives by founder member/ Advisor BHC&RC DR Ahmad Ali , programme plan and description by President BHC&RC Dr Villayat Ali , Contribution of Aliman and their objectives by Prof Nassir Shabani who promised his future cooperation and coordination to BHC&RC followed by Chairmen IKMT Sheik Sadiq Rajai who thanked the dignitaries participations for their endeavor.

Chief Guest of the occasion Sh. Basharat Bokhari, Honb'le minister J&K Govt. in his elaborative speech acknowledged the activities of BHC&RC and highly appreciated their cause for humanity. He further appreciated the contributions and efforts made by Prof. Nassir Shabani in making this events a success. Referring to social services rendered by the people of Kargil, he said that every time he visits Kargil he learns something new and adds to his Knowledge. He announced an amount of Rs 1 lac as a personal donation to BHC&RC Kargil.
Guest of Hounour Mr Zaffar IQbal Minhas VP Academy of Art Culture and language J&K govt. also in his encouraging speech narrated this event as an example to others and also announced RS 1 lac from his constituency fund.

Guest of Honour Sh. Haji Anayat Ali Chairmen LC J&K govt. requested the people for whole hearted cooperation to BHC&RC in making this mega project a success and assuring his ful;l support and congratulated the team of BHC&RC for their endeavors. He further advised the general public not to fall prey to divisive politics and requested to keep harmony, unity and to contribute their best in social service.

As a part of strengthening the existing health infrastructure BHC &RC donated one ventilator machine to CHC Sankoo at the august hand of the Chief guest who handed over to BMO Sankoo through DC Kargil in presence of CMO.

The ceremony concluded with the words of thanks to all the dignitaries, participents and ground level workers, various head of departments, media fertility and volunteers, donors, Baseejis in particular and public in general.

At the End the Chief Guest flagged off a team of Technical staff at TFC ground to initiate the Main Programme of Screening cum Vaccination in Shargole block on 20th October 2017. During the programme Mr. Gulzar Danish anchored the whole event. .